Red Flags for Financial Analysis
(Subscribers Only)
Good morning,
Today, we are going to be discussing some of the most prominent red flags that analysts should look out for, when analysing the fundamentals of the companies they are potentially investing in.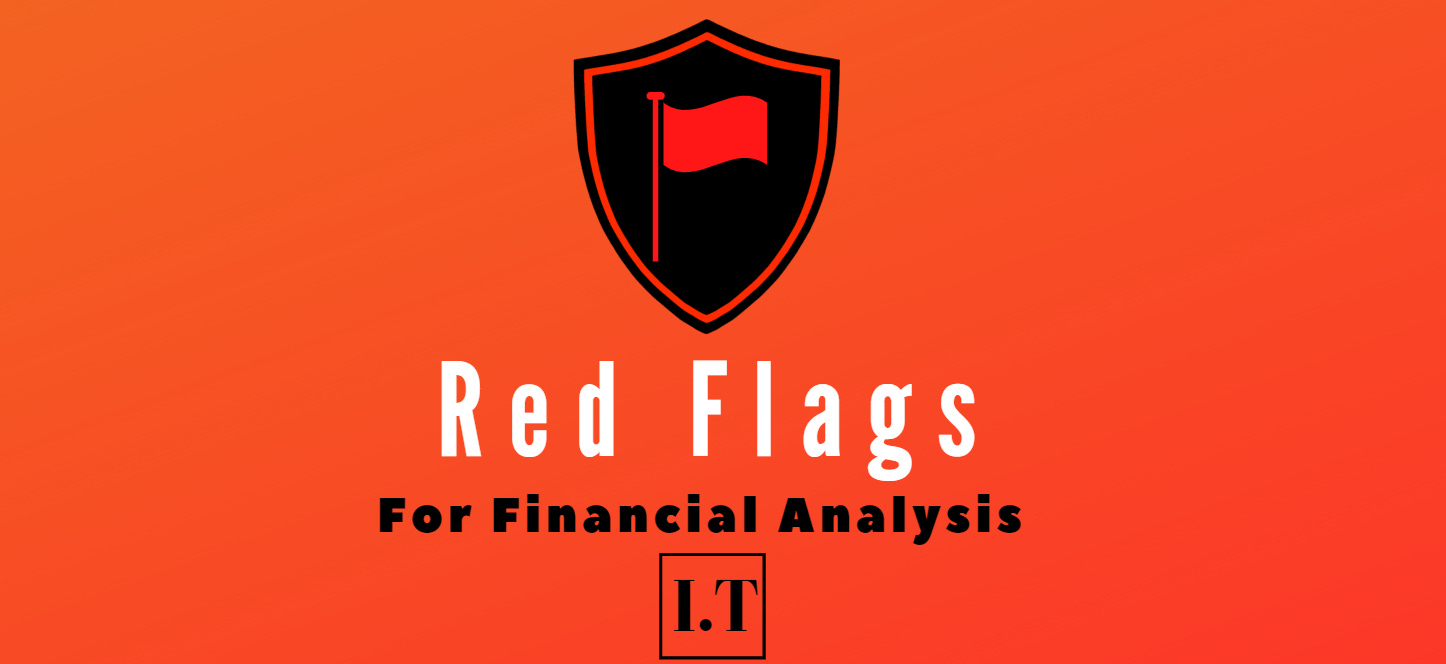 When we think of financial reporting, we have to know that certain aspects of the three financial statements; the income statement, cash flow statement, and balance sheet, can be manipulated by management to varying extents. I would say that the income statement is the most likely candidate, as it can be difficult to fake cash.
Throughout the business life cycle, management will make decisions, and these decisions should leave something akin to a paper trail across the financial filings. There are certain occasions that we, as analysts, can be vigilant for, that may or may not incite the possibility of manipulation or deceitful practices.
You have to remember, that management have discretion in how they recognize revenue, as well as when. Moreover, this also relates to the discretion relating to expenses. Management may chose when and how expenses are expensed. They may chose to expense the cost of a good over a long period of time, to reduce the yearly impact of that good. The management may chose to capitalize an expense, instead of recognizing it in the period it was incurred when acquiring a new asset. This method of expense deferral, essentially means that management will place the expense on the balance sheet as part of the 'cost' of the asset. Over time, the expense will be incurred over the useful life of the asset. This 'smooths' the income statement in that it avoids a lump sum expense in a given year.
Red Flags in Financial Analysis
We shall now run through some of the most common red flags in financial analysis, that one should be aware of.
1) Take a look at relative revenue performance.
The very top line within the income statement is, of course, the revenue of the firm during the reported period, otherwise known as the 'top line'. It is important to remember here, that income statements are reported on an accrual basis, in that they report sales and expenses when they are incurred, and not necessarily when the goods or cash exchange between parties. There is a lot of discretion places into income statements, and as such they are the most likely place to find malpractice or fraud.
Top line growth is cool, but it is not the only thing we should concern our analysis with when addressing the income statement. Let us now run through a couple of things we can consider to scan for inconsistencies in the reporting of revenues.
By this, i simply mean assess the company's revenues against that of their competition.
- How does the company's revenue growth compare to rivals?
There are certain companies who may exhibit revenue growth rates that are fairly detached from the rates displayed by their competition. This in itself is not a red flag per se, but we should seek to understand why the disparity exists. The superior top line growth may be a matter of superior product offering, technology, moat, management, cost leadership and so on. One common example may crop up when comparing a relatively new company in a given market, utilizing a technology that incumbents are not. The growth rates of top line may be excessive in comparison, whilst the new technology is being adopted.
So seeking to understand why the disparity is key here. If we have a why then we need not worry.
However, in the case of no why, we can't just assume that the top line growth is down the management or some other factor we are unaware of. Some extra due diligence is required.
An extra step we can take is to examine the level of receivables over time, and observe the relationship between revenues and the receivables. Recall that income statements are based on accrued. So if we make a sale, it gets recorded as a sale regardless of the cash being collected or not. If we do not receive cash at the point of sale, then we place it on the balance sheet in the receivables line item.
If, over time, the level of receivables as a percentage of revenues is increasing, then we it may be the act of fictitious sale reporting, or channel-stuffing to artificially bolster the top line figure. It can also be useful to calculate (or simply pull the data for) the receivables turnover over a period of time too.
Receivables Turnover = Revenue / Average Receivables
This ratio will show us how effectively the company extends credit and collects debts, the higher relative figure being the more efficient. Next, we can compute the Days of Sales Outstanding (DSO).
DSO = Number of Days / Receivables Turnover.
The DSO and Receivables number will move in opposite directions of course. So a decrease in the receivables turnover, or an increase in DSO over time, may be further evidence of income statement manipulation. By this, i mean that the company may be reporting sales too early (channel stuffing), or even fabricating sales. Assessing this in isolation is not so useful, i would advise comparing these metrics across the industry peer group for a more complete analysis.
Luckin Coffee anyone?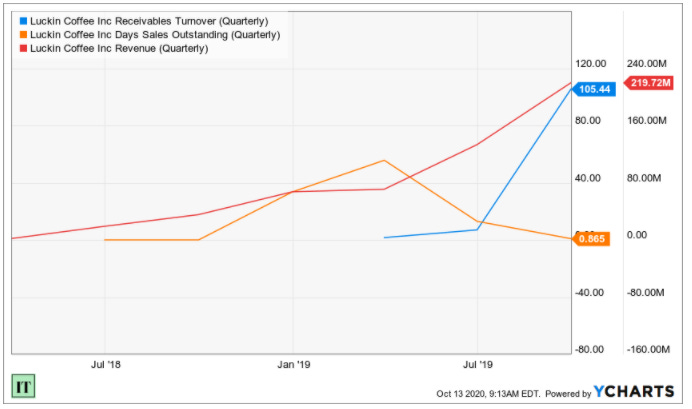 In addition to assessing the way in which the company reports their receivables, we can also observe the asset turnover.
Asset Turnover = Revenue / Average Total Assets
Asset turnover is simply a measure of how efficiently revenue is generated from assets, both current and non-current. If we see a period whereby the total asset turnover is in continuous decline, then there may be significant write-downs ahead. This is especially true in circumstances whereby companies acquire other companies to grow. In this instance, assets will grow (goodwill and other items), but if revenues do not grow at a faster pace, the total asset turnover will dwindle. A falling ratio indicates worsening capital allocation.
As a last point for this segment, it is always useful to compare the accounting policies of the company you are analyzing against the competition. Specifically how they recognize their revenues.
You have to consider that some policies will make it easier to manipulate figures in the form of recognition early accounting. Therefore, it is important to understand how each company records their revenues, and assess what difference this makes in terms of their top line. Imagine if you will, three companies, all similar products. Two report sales at the point of delivery to the consumer, one reports prior to the shipment of goods (using a 'bill-and-hold' arrangement). The latter company could, in theory, report a significant amount of sales prior to actually delivering the product. This potentially makes it easy to channel-stuff prior to a quarter-close period.
Be vigilant of these issues.
2) Cash Flows and Net Income
This is a short one, but a golden one that i revert to a lot. Net income is the 'earnings' figure that many cite as the driving force towards the company growth and expansion or whatever it may be. Analysts love to focus on net income.
But Cash flows are what actually matter.
Net income is not necessarily all cash earnings. For that, we can look at the cash flow from operations figure on the cash flow statement.
During periods when Net income > CFO, this is a red flag. It may not mean something fishy, but i advise always to flag it, just incase.
When Net income > CFO, this may suggest the use of aggressive accounting policies that have inflated earnings. Recall what we talked about before, income statements are easily manipulated. Management could defer expenses to a later period, in order that they can prop up earnings. In the event that we have increasing net income during a period where CFO decreases then this may be a sign of accounting foul-play.
However, like all things, it requires some context. For instance, for young growth companies, it is not uncommon to see a net income figure larger than a CFO figure, but we hope this is a temporary feature of the business. A mature business 'should' generate the bulk of their cash inflows from operations, and not financing or investing.
A useful tip i picked up a few years back is to create a time series of points in time and plot out the series of CFO/Net Income. If this figure is consistently below 1, then this suggests issues with the accrual accounting methods.
Gross/operating margins out of line with competitors or industry. This disparity is an ambivalent warning sign. It might signal superior management ability. But it might also signal the presence of accounting manipulations to add a veneer of superior management ability to the company's reputation. Only the compilation and examination of other warning signals will enable an investor or analyst to decide which signal is being given.
3) Funky Gross and Operating Margins
This is a fairly classic warning sign, and largely explainable. Watch out for companies that have large disparity in their gross or operating margins than their competitors. Much like point 1, this can be explained by technology, superior cost advantages and such. However, it may signal manipulation if we can't readily identify the reason for the disparity in margins. This is one of those red flags that is hard to distinguish in isolation, but should there be other significant red flags, this will certainly add some vodka to the punch bowl.
Classification of expenses as "non-recurring." To make operating performance look more attractive, managers might carve out "special items" in the income statement. Particularly when these items appear period after period, equity investors might find their interests best served by not accepting the carve-out of serial "special items" and instead focusing on the net income line in evaluating performance over long periods.
4) Non-recurring Expenses
A company can report certain expense items as 'special' or 'non-recurring' in that they are one-off incurrences that are not a typical part of the business operations. This is a genuine method of expense. What to look out for however, is a frequent use of these expenses. Should you notice a 'non-recurring' expense occurring quite often over a period of time, then you have to question this.
The whole premise of a non-recurring expense or a special item, is that they are not expected to re-occur in future periods.
This also goes, for non-recurring incomes. At times, management may insert non-recurrent incomes in their income statement to hide revenue growth weakness or a poor bottom line.
5) Polices of Capitalization
We briefly touched upon it in the introduction, but capitalization practices invoke a great deal of discretion, which can be manipulated to alter the perceived performance of the company.
The best thing i can suggest here is to read the financial notes in the filing, and ascertain what the policy is when it comes to capitalization. Then cross check this with the industry standard, ie versus competitors.
This might be best explained through an example.
Imagine we have 7 large players in a market. We check the policies of each and 6 of them directly expense their costs of new property, plant and equipment. Moreover, these 6 also use the direct expense method for all other costs.
Firm number 7, which appears to have the superior operating margin out of the sample, capitalizes their costs instead. Choosing to add the cost onto the balance sheet and expense it over the useful life of the asset. What, in effect, is happening here, is that they are breaking up their expense and spreading it over several periods. Thus, comparatively, their margins are benefitting from this due to the lower periodic expenses.
Again, if you see this kind of activity, go check the margins, the asset turnover, and search for other flags that can help build your case.
6) Study the Inventories
As you are likely aware, not all companies require inventories for their business operations. Twitter, for example, do not report an inventory line item in their filings. So this one, is more so related towards companies who do contain inventories in their asset base.
Like all things, there is room for manipulation here. Inventories can be studied in a similar way to the revenues of the company, as discussed in segment 1, in that we are focusing on the relationships with inventory and comparing these with other firms.
Study the relative growth of inventory levels (balance sheet) over time and see how these compare to the industry benchmarks. Imagine the inventory levels are growing over time, but revenues are flat. This would simply be an indication of poor inventory management. A study of the notes to the financial statements will typically show you the breakdown of inventory types, whether raw materials, work in progress, or finished goods. If the level of finished goods (items that are ready for sale) are building but with flat sales, then management are not allowing inventories to dwindle before loading up new stock.
If we see this persist over a long time period, we may have a case whereby the inventory figure contains are great deal of inventory that is unlikely to sell, thus will require mark downs, that have not yet been activated. This will obviously reduce the inventory value on the balance sheet and have to be expensed to the company, impacting margins. If the overstated inventory has not yet been marked down, then we may have margins that are superficially high.
In a similar fashion to revenues, we can compute the inventory turnover ratio:
Inventory Turnover Ratio = Cost of Goods Sold / Average Inventory
A declining inventory turnover ratio indicates what we have discussed here.
As a side note, if you ever want to see the level of 'purchases' on the filings (which is only applicable to certain firms) you find this using the below formula:
Purchases = Cost of Goods Sold + Ending Inventory - Beginning Inventory
7) Methods of Depreciation
When a company purchases an asset, they can chose which method of depreciation they attach to it. This could mean expensing the depreciation over the life of the asset in equal portions. It could also entail expensing 50% of the asset immediately, and then spreading the rest over the useful life of the asset.
Straight Line:
The straight line method is the simple method.
Depreciation Expense = Original Value - Salvage Value / Useful Life
In this way we depreciate over the useful life.
Imagine we buy a tractor for £2,300. It should last 4 years, and at the end of the 4 years we can sell it for scrap for £100.
Year 1 = 2,300 - 100 / 4 = £550
After Y1 we expense £550 to the income statement, and the value of the tractor falls from £2,300 to £1,750.
Accelerated Method:
In this method, we don't assign a salvage value and we depreciate heavily during the first few years. We can use a double declining method. So the depreciation is 50%.
Why 50%?
Well in straight line, there are 4 years, so 25% per year. Double it, 50%.
Same example.
Year 1 = 2,300 - 0 / 2 = £1,150
So after Y1 we expense £1,150 in depreciation and the value of the tractor falls from £2,300 to £1,150.
In this accelerated method, the first year of operations will be hit hardest by the £1,150 expense versus the £550 expense if we used straight-line.
Straight-line will expense four equal payments of £550 across four years.
The expenses for accelerated method will be £1,150 (Y1), £575 (Y2), £287.5 (Y3), and £187.5 (Y4).
So in the latter 2 years, it will appear like the second method has a significant improvement in margins, should everything else remain the same, due to the lower expenses.
Consider this when assessing companies and their competitors. Does everyone use the same method? If not, why?
8) Lumpy Earnings
Again, this is something we are seeking an explanation for. If there is one, great. If not, why not?
I would be most vigilant to the 4th quarter of the financial year for a company. Remember this is not necessarily October - December.
If you consistently see management filing earnings that 'surprise' investors, either in a positive or negative way, then this could be signs of earnings smoothing for the full year results. Management could have been downplaying, or overplaying their earnings for the first portion of the year.
I think as a side note, i would also be concerned over any management who appear to be obsessed with earnings metrics, as opposed to the company itself. Jeff Bezos, in the early days of Amazon, famously and publicly stated that Amazon where sacrificing operating margin in order to grow their business and improve their service. He said this for years. He didn't really care about wall street analyst opinions, his eyes were set on the horizon, not the curb. Management should be focused on driving the business, improving the business, expanding the market, and so on. This does not always equate to improving the earnings in the short-term.
9) Don't be Shy with Disclosure
One big massive red flag for me is issues with disclosure. Accounting is centered around the idea of full disclosure and honesty. If management do not seem concerned with this fact, then run fir the hills. This could be something as simple as aggregated the revenues of multiple units and placing them under one heading. This way, management can hide loss making units of the business in amongst more profitable ones.
This also relates to IR. If the investor relations do not email you back, that concerns me. That is their sole job, to answer the questions of investors.
Lastly, listen in to the conference calls during the earnings calls each quarter. If management duck and avoid certain questions, or don't provide a satisfying answer, then question why that might be.
10) Culture
A huge part of the heartbeat of any business is the culture within that business. Toxic cultures will eventually seep out an infiltrate consumers, and eventually the earnings.
This can spread across a variety of different areas. But note, that this can also provoke the question: is it in the culture of the company to manipulate accounts?
You have to investigate the past dealings of management and other large stakeholders in the business for this one. Shareholders? Board of Directors? Management? Suppliers? There could be shady culture lurking in any of these areas.
I think in addition, as a side note, not so much for financial statements but for general analysis, you should check out 'Glass Door' to see how employees rate the company they work for. It can shine a glimpse of the inside culture amongst the staff.
11) Acquirer Addiction
Last one for today, and we come to acquirer addicts. A big red flag for me is when companies grow via acquisitions. This is not always a healthy method of growth. It should be largely organic in my opinion. Best way to identify this is to simply read up on the acquisitions they are conducting and determining if it is high for the industry average.
One easy way to spot this is a surging goodwill balance, which is the excess paid for acquiring a company. Aurora Cannabis, back in 2016 began acquiring a boat load of firms over a 2 year period to grow. You can see their asset book became inflated, as their goodwill climbed higher with each acquisition, until the cannabis market popped, the goodwill got written-off, and the company's shares flatlined.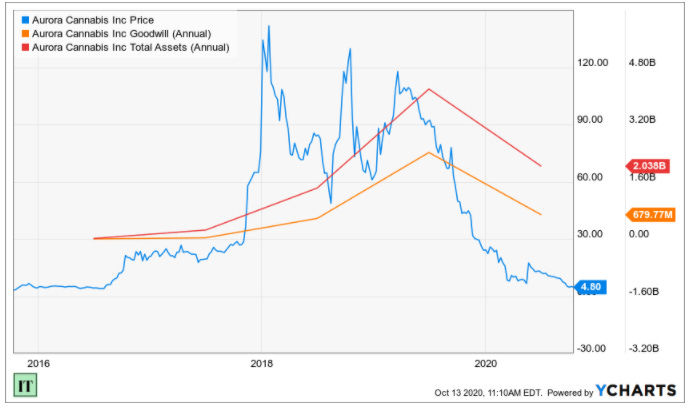 ---
Summary
Here is the thing. Not all red flags are deadly. Some are just that, flags. I often find that when a collection of flags build within a company, or over a period of time, then the evidence becomes that much more damning. If we see a large number of flags, we aught to be cautious at the very least. Luckin Coffee had multiple red flags before their meltdown in 2020, after being found to be fabricating sales. Perhaps one day, we will go over that in a newsletter. Could be a fun topic.
Anyway, i hope you learned a few things today.
Until next time
IT