Guest Article: Kia Commodore
Edition Number: 6
Good morning,
For all the new readers, here at IT, i aim to collect guest articles from some of the interesting characters in the finance space to contribute towards the free articles i post for all newsletter readers. My aim is to grab a diverse range of perspectives and experiences to share with you all.
Today we share with you another brilliant piece from another superb guest, marking edition number 6 of the IT Newsletter guest article series. I typically aim for one guest per week, depending on sourcing and other variables.
Previous Guest Articles:
Edition 1: Jaxson B
Edition 2: David Belle
Edition 3: Curtis Davies
Edition 4: Sade Taiwo
Edition 5: Jay Smith
---
Kia Commodore
Today's guest is Kia Commodore (who you may know as 'Kae'), creator of the Pennies to Pound platform, which is a social media based platform seeking to make financial literacy easy and understandable.
I am also proud to say that we have our second female guest. As i have stated, it is one of my goals to collect a wide range of guest insights from a multifaceted range of backgrounds. There are a great number of strong female voices in the financial field, and i will do my best to share those voices.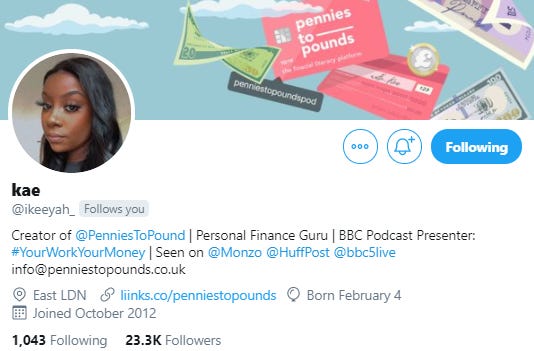 Where do i even begin with Kia. She is so active in the personal finance space that it is sometimes hard to keep track of all the great things she is doing to push for further education to those in need. Kia has featured on BBC5Live, Monzo Bank and HuffPost to share her insights, to name a few large platforms.
Kia is the creator of Pennies to Pounds. Pennies to Pounds is a financial literacy platform created to empower people by enabling the,m to shape their future with complete knowledge. The platform has worked with many different brands to curate and deliver a variety of events and content centered around financial literacy, something which is vital for everyone.
Pennies to Pounds also operate a great YouTube page, that features short clips on the subject matter we have discussed. Check out this one on 10 Common Finance Myths Busted.
They also operate a fantastic Podcast for those who enjoy audio content. Personally, i adore podcasts, and really enjoyed episode 34, where they had Hargreaves Landsdown as a guest discussing 'How to make good investment decisions'.
A very interesting, insightful and strong female voice in the in finance space, it gives me pleasure to introduce Kia's guest article this morning. Kia has kindly provided us a newsletter today, focused more on a personal tone.
I really enjoyed reading this one, and i think you will too.
---
Kia's Guest Article
I started my journey into the world of personal finance back in 2018. I was at university, found myself in some debt due to not receiving enough student loan despite having the necessary financial literacy knowledge. I was in £600 worth of debt and had to find myself a job borrowing money from close friends to even be able to attend the interviews.
I was able to pay that debt off and learned many valuable lessons regarding money management. I would have calls with close friends educating them on the topic of financial literacy and offering recommendations specific to their situations. I realized that this isn't something that is addressed throughout the educational system and so decided to offer some aid.
I started a YouTube channel that did okay but wasn't receiving the reach or recognition that I desired so I put it on pause. October 2019 came around and I happened to create a Twitter thread explaining what the Help To Buy ISA is and how it worked (which is now closed). I didn't think anything of it, I had less than 1,000 followers so didn't think it would gain any sort of traction in the slightest. That thread ended up going viral and that tweet, unbeknownst to myself at the time, was the start of a new path.
A week after that thread went viral, I created my podcast called Pennies To Pounds. I had no prior knowledge regarding how to create a podcast nor did I have a name when I came to record the first episode. I continued to grow my platform and had the opportunity to work with some amazing brands in the finance world such as Monzo and Barclays to be able to create content.
At the time of writing, my personal Twitter account has over 23,000 followers, Pennies To Pounds has almost 100,000 streams and 12,000 followers across all social platforms in less than 10 months. Starting this platform in the midst of university, I went from having lots of time on my hands to being booked and busy talking at events and a regular on BBC radio.
I couldn't imagine I would be here in this short space of time but I am grateful for the opportunities that have arisen for me. I have recently also become a co-host on the new BBC 5 Live podcast, Your Work, Your Money.
In less than a year, I have gone from no-one to someone prominent in the personal finance world. I'd like to believe that I have taken this shift firmly in my stride and embraced it but, in reality, this has definitely been a real shock to the system.
Finance has always been considered a man's industry. According to research carried out by Statista in 2019, 521 thousand men were working in the finance and insurance world full-time compared with 346 thousand women. As you can see by the stats, even though more women are joining the industry, there is still a big disparity. I personally feel as though the difference is much starker when you compare women and men money and finance 'influencers' or experts.
If I were to ask you to name two men who talk about personal finance in the UK, chances are you'll have no issue doing so. However, if I ask you to name two women, I reckon you'll be scratching your head a bit more.
I have managed to penetrate this male-dominated sector and been able to make a name for myself. I won't pretend, sometimes I find it a struggle. There are women that I look up to in the industry that I look up to but very few directly in my realm.
Being a woman, I often felt as though I had to 'prove' myself to be in this male dominated space. Although I have been accepted and featured on major platforms, I am not oblivious to that fact that there aren't many women in this space. Growing up, I had role models that I looked up to and always vowed to myself that I would be that person for another young girl or woman.
Despite sometimes feeling as though I should transform myself into a more 'accepted' version of myself, that wouldn't be right. I have gotten this far being my authentic self, flaws and all. So, I sit here and write this article with two intentions in mind:
The first, I want this article to inspire men and women alike. I took a leap of faith and 10 months later, have landed an ever-growing platform with regular radio appearances and talks. I was on a path that I wasn't sure about and was able to shift gears and into the fast-lane that I'm currently in. My second intent is to break down the barriers to entry for women into male-dominated industries.
I'm by no-means a superhero but I hope to endure the struggles entering this industry so the women who come after me don't have to. I want to show women that it is possible to do whatever you want to do despite any apparent odds. With that being said, I hope everyone goes off and works towards achieving their personal goals and breaking down any barriers that they may face along the way.
---
Summary
One quality i respect in humans is the ability to be transparent. Publicizing our honest accounts, our struggles, our insecurities, is beneficial on a personal level, as it allows you to grow. Equally, it is also beneficial from the standpoint of others as they can learn from what you share. Many of Kia's followers may see an accomplished and confident woman, but disregard to struggle or insecurities she faced to get there. It is important to make yourself human, as this allows others to grow too.
Role models are an often understated, but crucially important aspect when we consider the generational timeline of new adults. Circle back 50 years or so, and imagine the lack of role models for a young woman with aspirations to join the financial field. The industry would have been (and still is, but less severely) dominated by men. In my opinion, having women in the public domain who are vocal about finance and sharing messages such as Kia's, it crucial.
Issues like the disparity of women in certain fields do not vanish overnight, instead are shifted over time. Kia is doing an awesome job, and hopefully encouraging more young women to enter the discussion.
All of that aside, i genuinely enjoyed the article as an honest and insightful account of Kia's journey so far.
I wish her all the best in what i am positive will be a fantastic career. Moreover, i would like to say one more thanks for taking the time to appear on the IT Newsletter this morning.
Until next time
IT