Guest Article: Jay Smith
Edition Number: 5
Good morning,
For all the new readers, here at IT, i aim to collect guest articles from some of the interesting characters in the finance space to contribute towards the free articles i post for all newsletter readers. My aim is to grab a diverse range of perspectives and experiences to share with you all.
Today i am bringing you another superb guest to the IT Newsletter. This marks edition number 5 of the guest article series, and i am happy to report that i now have a few backlogged for the upcoming weeks. I typically aim for one guest per week, depending on sourcing and other variables.
Previous Guest Articles:
Edition 1: Jaxson B
Edition 2: David Belle
Edition 3: Curtis Davies
Edition 4: Sade Taiwo
---
Jay Smith
Today's guest is Jay Smith. Jay is a widely popular investor on Etoro, the social trading and multi-asset brokerage company that focuses on providing financial and copy trading services.
Jay shares some values that resonate with my mission. Jay states that he "prides himself on transparency and honesty", which is something that i also pride in my own work.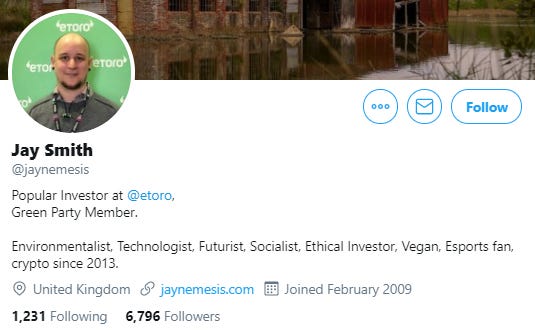 At the age of 19, Jay began his investing career, focusing on disruptive technology and primarily trades companies listed on the Nasdaq. In 2017, Jay quit his full-time post in the Esports industry to pursue full-time trading. After a few months, he quickly became on of the most replicated traders on Etoro.
Jay would describe himself as a self-taught investor, environmentalist and big advocate of ethical investing.
I feel the following quote, sums up what Jay's philosophy and goals are:
"My goal is to inform and educate as many people as I can on trading & investing in disruptive technology by creating weekly content on Twitch, Youtube and my Blog. Transparency and honesty is key to earning trust, this is why I always try to respond to my copiers and build a community to help everyone grow.

I am motivated by a drive to understand how things work and a passion for technology. I am a big believer in sharing knowledge freely, for this reason I publish all of my content for free so that anyone can learn from it."
You can find out more about Jay, and the various mediums through which he is active on the below link:
Jay shares every aspect of his strategy, as well as returns there. Transparency is key, and his results speak for themselves.
Jay's piece today discusses Solar EV trends, as well as some great commentary throughout, hope you enjoy.
---
Solar EV Trend
If you ask new retail investors what their favorite stock is I'd wager about 50% would say Tesla. Tesla, Nio, Nikola and even some of the traditional auto companies like Volkswagen have benefited from growing attention from retail investors who are looking to benefit from the growing electric vehicle market.

It's undeniable now that the EV sector is not only here to stay, but here to take over. But are these retail investors looking in the right place to benefit from the rapid growth?

Certainly, anyone who invested in Tesla or Nio even a year ago would argue for investing in these newer car manufacturers. Tesla printed a gain of 520% in the past 12 months, Nio increased by 375% over the same period. There are very few companies that can boast such impressive performance. But there are two that come to mind immediately for me.

Solar Edge Technologies, up 234% for the trailing 12 months and Enphase Energy, up 247%.

At first glance, you may look at these stocks and argue they are part of an entirely different sector: Solar. However, I believe these two industries are linked much more than most people may think. Last year I attended an EV event in the UK called "Fully Charged Live". The focus was supposed to be cars, but there were more solar companies in attendance than car companies!

I'll cut to the point. When homeowners buy an EV and delve deeper into the world of owning and maintaining it, they very quickly come to the same conclusion: Charging your car at home using solar is immensely efficient. In fact, some of the home charging equipment not only allows you to schedule and automate charging to utilize your excess solar capacity, but it can manage a battery, discounted grid power (sometimes even being paid for it) and your car's charge bi-directionally, entirely automatically.

Installing an average solar array on a south-facing roof in Europe or the US typically pays for itself in 7-9 years. If you add a battery, you can bring it down by another year. If you add a car and include the savings in charging compared with public charging infrastructure (or worse, petrol/diesel) it reduces the number even further down towards 5 years depending on your driving habits. 5 years to break even on a solar + battery + EV charger before any incentives or government subsidies!

This loops around nicely to some of the other potential tail-winds for home solar installations.


1. Government Subsidies
These vary from country to country, but as many nations continue to wrestle with their struggling economies alongside the looming threat of climate change we could see new policies geared towards growing the industry as a method of tackling both problems at once.
2. Incentives
Often this is lumped in with government subsidies, but I prefer to separate it. Why? Well, because increasingly individual companies are working to bundle products together or offer discounts for building a wider ecosystem. For example, car companies offering free home chargers. Again, as the dots get joined together by consumers this is likely to increase as EV manufacturers look to find an edge in shifting their new EV's in high volume.

3. Working From Home
Since covid19 hit, this trend has obviously accelerated at an immense pace. And if you're home all day, you're using more power, more power at the time of day where you could be generating it with ease on your own roof. Not only are people working from home more, but they are generally spending more time at home, more meals in, more evenings with friends/family, more nights on the sofa in front of Netflix. This will continue to impact their energy bills and further justify and investment into solar.


So, I've made a compelling case for Solar, but why Solar Edge and Enphasse? Why not a panel company, or just more Tesla shares, they make solar and battery products right?

Well, it's simple really. The inverter market is rapidly becoming a duopoly between these two companies. It doesn't matter if you have a battery or not, it doesn't matter of you have Sunpower, Canadian Solar, First Solar or any other panel. Chances are, you will either have a Solar Edge inverter, or an Enphase inverter. If you don't believe me, go get a quote for solar and see what inverter they suggest, and pro tip: if it isn't one of these two companies, don't buy from them!

When we look at the fundamentals behind both companies we again see a much better bang for buck when compared with Tesla or Nio. Using trailing 12 month figures, they both beat Tesla and Nio on Price/Earnings, Price/Book, Price/Cashflow, EV/Sales, EV/EBITDA, YoY revenue growth, YoY EBITDA growth, YoY EPS diluted growth, Gross Margin, EBITDA margin, Return on Equity, Return on Assets the list goes on!

To top it off, the competition here is not as fierce as it is in EV's. There are no major incumbents coming to hunt them down, the market is theirs for the taking.

Disclaimer: I currently hold long positions in both Solar Edge Technologies and Enphase Energy. I have previously traded Tesla and Nio, both long and short.

If you're interested in learning more about my views, seeing my portfolio, or copying it automatically for free head to my website.
---
Summary
That was a refreshing take on EV's, a sector that i am admittedly not super familiar with. I took away a few nuggets from today's post and i hope you did too.
The guest articles are one of my favorite aspects of the IT newsletter, in that it gives me the opportunity to share some prominent voices, and give readers a different flavor that the one that i precipitate each week.
Glad to say, we have the next month's of guest newsletters all booked up.
Until next time
IT